Episodes
Saturday Mar 11, 2017
Saturday Mar 11, 2017
This week, I chat with my good friend Dr. Kurt Perkins about what to do with pain from inflammation and autoimmune disease.
Read the rest of this entry »
Sunday Mar 18, 2018
Sunday Mar 18, 2018
This is part 2 of the mini-series on conventional healthcare. This week we are rethinking medical insurance with Dr. Kurt Perkins. 
1. Intro 
2. Sponsor: STR/KE MVMNT (2:29) 
15% off code 'fb_pc_15'
3. Interview: Dr. Kurt Perkins (3:24) 
4. Functional Medicine Space (16:03) 
5. "Good" Insurance (23:09) 
6. Sponsor: Perfect Keto & Equip Foods (26:19) 
'fullbodyfix' 10% off your first order
7. What do we do about it? (26:50) 
8.  Other options for insurance (32:57) 
Medishare, Samaritan Ministries, HSA / FSA Information
9. Providers looking to transition away from in-network (38:41) 
10. Where you can touch base with Dr. Kurt?
Please tell a friend who loves fitness and rehab about our podcast! We're on every major podcast platform including iTunes, Stitcher and Google Play. Don't forget to leave a review.
Full show notes can always be found in the Archive.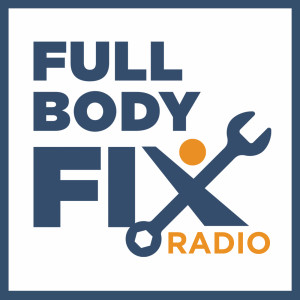 Sunday Sep 09, 2018
Sunday Sep 09, 2018
This week I kick off a mini-series on specific health issues for men and women. First up is the guys and I welcome back for his 3rd episode, Dr. Kurt Perkins to help me wade through some tough issues.
1. Intro - More from Dr. Kurt on Ep. 14 and Ep. 65
2. Topic of the Day: Men's Health
3. Why Don't Men Go to The Doctor?
4. The Suicide Epidemic
5. Low T and the Four Cs - link to Webinar
6. Animal based diet results - Dr. Kurt's Personal Expirement 
7. Connect with Dr. Kurt Perkins on his website and facebook page.